ZD VALVE
Rubber lined butetrfly valve
Dqj-41X rubber lined Butterfly Valve, double eccentric disc design, with EPDM ebonited lining, and is applied in the sewage industry, sea water treatment and desalinization project, and etc.
Design standard: BS EN593
Face to face length : EN558-1/ISO5752 series 14 (DIN3202 F4)/ ISO5752 series 13
Flange dimension and drill : BS EN1092/BS4504 (DIN2501)
Size: DN150 - DN3600; 6"-144"
Pressure rating:PN10-PN16-PN25-PN40
Application: water, sewage, sea water desalinization etc.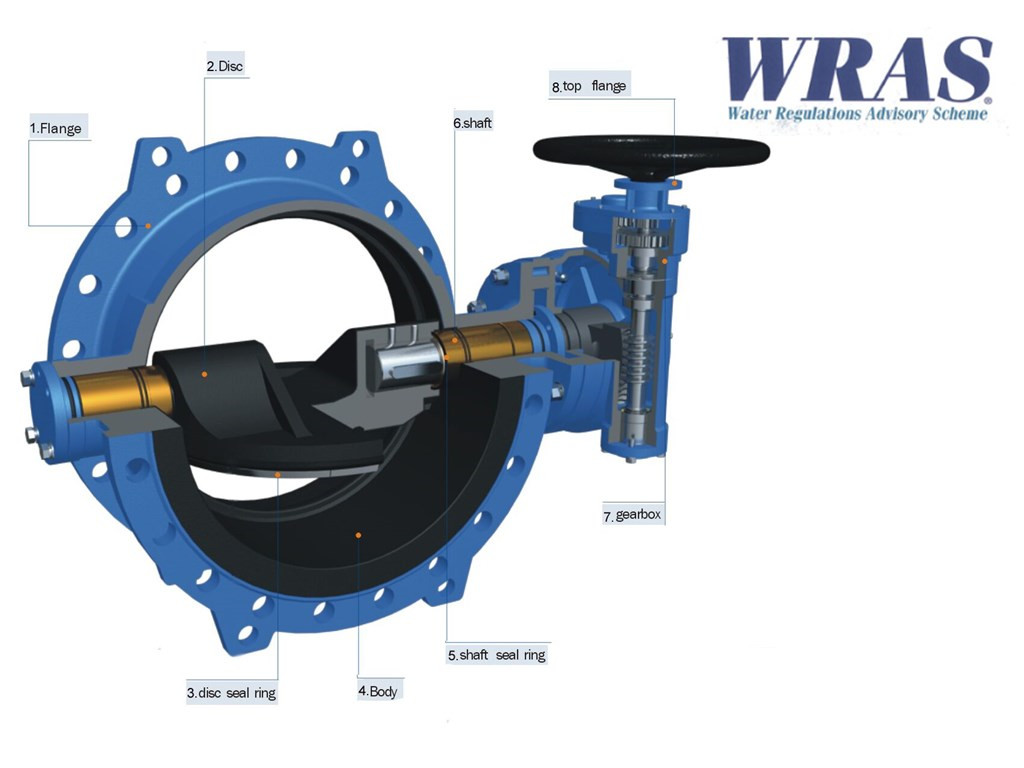 Overview:
►1.Flange
Flange and drilling to EN1092-2, face to face as per ISO5752 series 14 or Series 13
►2.Disc
Disc is fully vulcanized with natural hard rubber, Streamlined low profile disc ensures the lower flow resistance.
►3. Disc seal ring,
L profiled disc seal ring fixed by retainer ensures the reliable sealing performance in both direction, which is also easy to be adjusted or replaced without any special tools.
►4.. Body
Body is fully vulcanized with natural hard rubber.
►5. Shaft seal ring
Multiple shaft O rings provide long life and reliable sealing performance, which is easy to be adjusted or replace.
►6. Shaft
Dry shaft design can prevent the corrosion from service medium
►7. Gear box
Low torque gearbox can be easily operated by hand wheel or connect with actuator
►8. Top flange
Gearbox is equipped with ISO 5210 flange connection with actuator, and F10 is standard specified.